Mechelany Advisors' WEEKLY MARKET REVIEW highlights the salient feature of the past week, details specific issues of the moment and reviews the Mechelany Advisors' MODLE PORTFOLIO
The Powell Mania
Never in history have we seen all the indicators we follow at such extremes …
We are ending the first four months of 2021 with equity markets at all-time highs and with a unique situation in history.
Stocks have been running hot, and investors are responding. More and more extremes have been triggering, helping to push valuations to extremes amid low volatility.
The past few weeks have only added to a historic run from the months before that.
On one hand all the BREADTH and momentum indicators of equity markets are recording extremes after extremes, usually a situation that happens at the beginning of major equity rallies after severe bear markets, so a positive configuration from a technical situation…
Even with a breather over the past couple of sessions, the S&P has never before seen a year with more +1% daily gains versus -1% losses.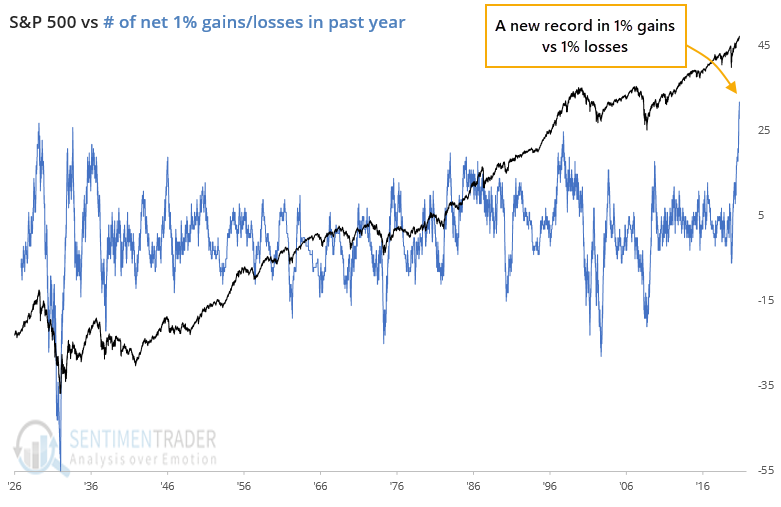 The past year has seen 32 more big gains versus losses, more than the net +27 days heading into September 1929, +26 days into February 1934, and +25 days into April 1998, all preceding major bear phases in equities.
But on the other hand, SENTIMENT indicators are also unanimously recording extremes never seen in history, usually a warning signal that a major top is near, especially when happening in situations of record highs in the indexes….
Margin debt has risen year-over-year change 72%, the 2nd-highest rate of growth in 35 years, indicating massive bullishness and participation.
Optimism has pushed the risk appetite indexes to one of their highest levels in several years. And ETF traders are fully embracing this appetite for risk by pushing assets in leveraged long funds to record highs.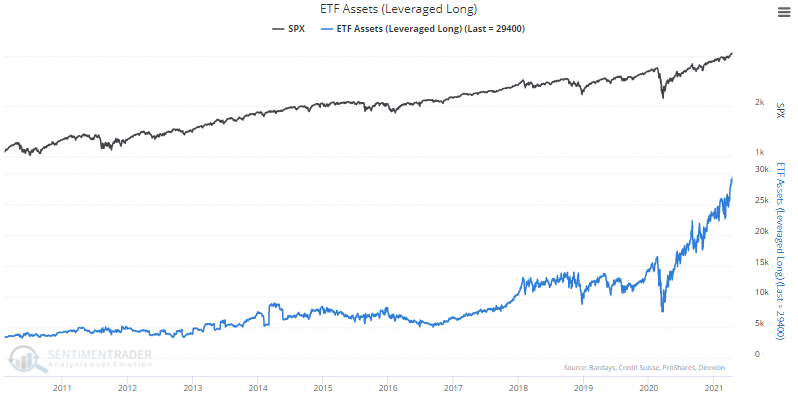 We could detail all the sentiment indicators that we follow one by one, but it would be fastidious and the message is always the same.
These conflicting signals between breadth and sentiment are very unusual and the tension can only resolve itself by heightened volatility ahead.
In fact, these signals are not as antagonistic as may appear…
They are the ultimate consequence and the starkest starkest illustration of "THE POWELL MANIA", a monetary bubble with no equivalent in history, that will ultimately end in a major collapse in asset prices and debt-deflation when inflation rises in a sustainable way, something that has already started and will become an economic new normal by 2022.
---
Excess Liquidity Create Investment Bubbles
"A bubble is a market cycle that is characterized by the rapid escalation of market value, particularly in the price of assets. Typically, what creates a bubble is a surge in asset prices driven by excess liquidity and exuberant market behaviour. During a bubble, assets typically trade at a price, or within a price range, that greatly exceeds the asset's intrinsic value (the price does not align with the fundamentals of the asset)."
The chart below published by Jeremy Grantham of BofA depicts all the investment bubbles of the past 40 years.
The Japanese Bubble of the 1980s was created by Excess liquidity provided by the Bank of Japan, the .dot com bubble of 1999 was created by the monetary policies of Alan Greenspan, the US Real estate bubble of 2005-2006 was created by excess credit and quantitative easing, and the latest ruling bubbles in US equities from Biotech, to Technology Disruptors, to SPACS and Meme stocks was created by Jerome Powell's unprecedented Monetary Policies.
and the following chart gives an indication of how extreme have valuation been stretched to when compared to past bubbles.
And the following chart depicts the psychological pattern of investment manias.
---
Central Bankers create Investment Manias
Central Bankers control the volume if liquidity in an economy at any given time.
That is their job and their mandate in the US is to stimulate economic growth when needed by opening the taps and to contain inflation when economies are overheating by closing the taps.
The 2020 recession had nothing to do with monetary policies or economic cycles. It was a health hazard that could only be solved by public health measure and not by monetary means.
At zero nominal interest rates and quasi-zero bond yields, monetary policy looses all its efficiency in terms of investment and job creation but the extra liquidity pumps out asset prices – the pace of the 2020 recovery in equity prices is unprecedented in history – making the rich much richer while millions of normal citizens were losing their jobs.
Nevertheless, when faced with the COVID-19 pandemic, Jerome Powell did not hesitate to go all the way and open the liquidity taps to a degree never tried by any central bank in the past.
Rising asset prices, blank checks to bored citizens and ease of trading through online brokerage apps, developed the public enthusiasm that is characteristic of Mania and that only central bankers can stop.
But Jerome Powell does not care about investment bubbles…
So who is Jerome Powell ?
Jerome Powell is the 16th chairman of the US Federal Reserve. A former investment banker and politician, he became a member of the Governing Board of the FED in 2012 and was nominated Chairman by Donald Trump on February, 5th 2018, a highly political decision.
After barely one and a half year of normalisation of the US Monetary policy by his predecessor, after ten years of abnormally easy monetary policy following the great financial Crisis of 2008, Powell turned the clocks on monetary policy in December 2018 and resorted again to super-easy monetary policy, when Donald Trump's Trade War on China started sending equity markets roiling in December 2018.
Despite the strongest growth and lowest unemployment level of the past 50 decades, and an exceptional tax cut by Donald Trump in 2017, at the time, Jerome Powell's obsession with the financial markets made him reverse the course of interest rates on 24th December 2018 and resume Bond buying by the Fed
As a result, the un-necessary liquidity injected in the markets artificially pushed the financial cycle longer, sending equity markets flying in 2019, one of their best year in history and postponing the secular top that was unfolding.
In 2020, faced with the COVID pandemic and the collapse in equity markets, he went all the way, using monetary tools to an extent never seen before, growing the Balance sheet of the FED sevenfold to 35 % of the US GDP, bringing 10 year treasury yields to 0.50 %, printing money hand over fist as the Treasury was sending helicopter money to the US Citizens.
His philosophy and policy to apply high levels of monetary stimulus to raise asset prices to support growth raised many questions with economists and politicians, with observers highlighting the major disconnect between asset prices and the economy.
To better understand the Powell FED's obsession with equity markets, it may be worth understanding better who Jerome Powell is and where he comes from.
Jerome Powell is first and foremost an American Republican Politician, with an extended career in private finance. He is the richest member of the Federal Reserve Board of Governors with a fortune in excess of US$ 55 million, and the first Chairman of the Fed NOT to have a Ph. D. in economics since 1987.
Jerome Powell was born in Washington, D.C. in February 1953. He graduated from Princeton University and earned his JD from Georgetown University.
He began working in investment banking in 1984 and served as the Under Secretary of the Treasure for Domestic Finance under President George H.W. Bush from 1992 to 1993. From 1997 to 2005 he was a partner at The Carlyle Group. He then founded his own private investment firm called Severn Capital Partners and in 2008 he became a managing partner at a private equity/venture capital firm called Global Environment Firm.
In the history of the Fed, there has been very few members of the Board with so much implication in both the financial markets and politics.
Time magazine said the scale and manner of Powell's actions had "changed the Fed forever" and shared concerns that he had conditioned Wall Street to unsustainable levels of monetary stimulus to artificially support high asset prices.
Today, the FED position is a major departure from what has been its own philosophy for decades; be data-dependant and build monetary policy on predictive models that allows the FED to stay ahead of the curve and on top of self-sustainable trends in inflation.
FED Governors currently talk about "raising interest rates only when they will see the white in the eyes of inflation", but every military commander knows full well that when their soldiers see the white in the eyes of the enemy, it is already too late to defeat them …
Powell has responded to criticisms by arguing that supporting the Fed's dual mandate of stable prices and full employment outweighed concern over high asset prices and inequality.
But once again, Covid-19's damage was due to a health hazard and re-creating jobs and activity in the devastated hospitality and travel sectors has nothing to do with low interest rates while the monetary policies engineered by the Powell Fed are breeding inflation rather than controlling it.
Powell made the same mistake Greenspan did in 1999 when fearing Y2K. He recklessly pumped money into the economy and inflated asset prices for the short term gains of an asset induced wealth effect…
But the ultimate consequences are massive inequalities in the short term, and, in the longer term, as was the case with the Greenspan ( Dotcom ) mania, the bursting of the investment mania.
The FED is already behind the curve in terms of its mandate of containing inflation, and the sharp back-up in bond yields of the past six months ( from 0.50 % to 1.70 % ) or the depreciation in the value of the US dollar in the past few months are signs that the markets don't buy the FED's policies and that growing the FED's balance sheet has reached its limits…
The liquidity-induced Powell Mania has driven every asset class to the highest levels of valuation ever seen in history, and drove generations of new and inexperienced investors to the financial markets with a culture of punting the markets as if they were playing video games thanks to online trading platforms, and sent every possible and unimaginable asset (DogeCoin for one), meme stocks like Gamestop, SPACS, Cryptocurrencies, IPOs, commodities, to bubble territories that make all the bubbles in history pale in terms of magnitude and participation.
The investment logic of this new breed of investors is to band together through the social medias to attack in herd investments or individual stocks to push them higher and make quick profits with total disregard to the fundamentals or future profits to be expected.
In legal terms, this is a criminal offence of market manipulation, but the SEC is way behind in controlling the phenomenon.
Jerome Powell's monetary policies have really achieved two things :
. They fed an asset bubble with no equivalent in history, increasing inequalities by making the rich much richer while people lost their jobs,
and

. they created an investment mania that will have profound and lasting consequences on generations of new investors.
Far from reforming the Fed's mandate and incorporating asset inflation in the gauges of inflation and monetary policy, something that has been debated now for years at the Fed, Jerome Powell negated the profound implications of allowing bubbles to form and contain them through liquidity.
Granted, he is not the only Central Banker of the world to have fallen into this trap, as the generation at the helm of Central Banks today are people who never experienced the hyper-inflation phenomena of the 1970s and always lived through the structural disinflationary effects of world globalisation, technological productivity gains, peace time, and the coming of age of billions of workers competing for jobs with the workers of the western world.
But these structural trends are coming to an end and we are entering a new 30-year structural inflationary environment that will take time to become apparent.
Unfortunately, and as was the case with Alan Greenspan, Jerome Powell will be remembered in history as the Fed's Chairman who will have induced the mother of all asset bubbles and an investment mania of unique proportions.
The Powell Mania and its bursting will also be one of the legacies of Donald Trump, a US President obsessed with the level of the stock market…

---
But, on a more fundamental level, in a country where the justification of the free capitalist system is supposed to be the rational allocation of resources by the markets, the extreme monetary policies of Jerome Powell, – and Alan Greenspan before him – have also demonstrated, that
FINANCIAL MARKETS ARE ALL BUT RATIONAL
The US financial markets are currently driven by two forces that have nothing to do with rationality:

. The amount of liquidity that is injected unilaterally by Central Banks into the system and their artificial manipulation of interest rates, and
. Investors Psychology, Fear of Missing Out, TINA and a herd mentality amplified by social media that are all exactly the opposite of rationality.
Had the financial markets been rational, the top in the secular bull market that started in 2009 should have happened in 2018. The extreme monetary policies pursued by the FED first in December 2018 and then in March 2020 gave the secular bull market two other leases of life, one in 2019 and one in 2020/2021, despite the US and the world economies experiencing the worst downturns in a century, leading them to the highest valuations and largest disconnect from fundamentals even seen in history.
And the manias created by these all-but-free-market policies have all inevitably led to major financial crises with lasting damages to their economies and social fabric.
The current tension that is happening between momentum and sentiment indicators is actually the sign that the POWELL MANIA has built the momentum AND enticed bullishness to degrees unheard of before.

The extremes reached in these indicators are a flashing red light warning signals that something major could happen very soon.
Our regular readers know that our preferred scenario is one where a sharp correction is to happen in the next couple of months, before a last rally takes place in the second half of the year for a secular top in Q1 2022, at the time where inflation will have really gone out of control…
However,
Major cracks are already starting to appear
1. The leaders of the entire 2008, 2020 bull market, the US Mega Tech stocks have already lost momentum since the summer of 2020 and have peaked for most of them…
2. TESLA and the ELECTRIC VEHICLE Mania has already peaked with TESLA trading at 1000x earnings and 47x book value, so much so for the rationality of investors,

2. The Meme stock mania has already peaked and many holders of Gamestop et al. are already sitting on losses…

3. IPO's are no longer the printing press they used to be in the past year. Many recent IPOs such as Deliveroo or even Coinbase have disappointed investors.

4. SPACs have also seen the peak of their moment and large quantities of them are rushing to get approved while investors in the early ones no longer sitting on gains,

6. Cryptocurrencies are collapsing
On April 13th, 2020, the very day of the IPO of CoinBase, we wrote a piece titled THE END OF CRYPTOS, where we detailed why crypto-currencies in their current format would not survive in the long term and that the CoinBase IPO would mark the beginning of their end.
Since then, Bitcoins have lost 19 % of their value wiping out USD 200 Billion of wealth or profits for a new generation of investors who stand to lose massive amount of money if they hold on to their digital coins.
Two digital exchanges blew-up in Turkey in the past week, leading to massive dislocation in the crypto-currency complex and countries such as Turkey are now following the example of China and Russia and starting to ban cryptos altogether.
Financial regulators around the world are starting to scrutinise the legality and financial consequences of both exchanges and cryptos.

The real danger in that space is that as institutional investors were finally led into the crypto-universe under the pressure of their clients and against their own analyses, by Fear of Missing Out shovelling billions of clients money into the space.

When things turn, as they seem to be doing, the sheer sizes looking for an exit will lead to a significant crash…

Grayscale Trust, the larger Crypto Investment Trust is already trading at a 19 % discount, the largest ever recorded for the trust, meaning that investors already prefer to sacrifice 20 % of the value of their investments rather than being taken in downdraft that will see massive selling and no buying.
7. Speculation has started to take hold in the soft commodity space, with major inflationary consequences for the future.
The 252-day rate of change for the Bloomberg Commodity Index has now reached the highest level in the past 40 years, but the last time it happened was in 1980 at a time where inflation was running at 15 %.
Soft Commodities are seeing the most significant year-over-year gains since the commodity bull market cycle in the 1970s.
What is happening in Lumber for instance is truly staggering. Since March 2020, Lumber prices have risen risen 250 %, making them more overbought than at any time in history, and at levels that always preceded major corrections.
As prices have been rising, interest from speculators have risen to extremes as testified by google searches, indicating that the recent pushes have nothing to do with final demand, bu truly coming form inexperienced speculators.
On June 20th 2018, ( Check chart above ) in a post titled Trees don't rise to the skies , we recommended investors to short Lumber at US$ 600. In the following six months, the commodity had lost 50 % of its value.
But Lumber is not the only commodity in speculative excesses.
Corn or Soybeans are in the same situation and it is only a matter of time to see a major reversal on these commodities that will send shockwaves through the system as margin calls could have spill-over effects on other asset classes.
We stand ready to short them in our Model Portfolio as soon as we have a sign of peaking out or loss of momentum.
---
The best of all economic worlds
A worrying development is that we may have seen the best of all worlds in the first quarter of 2021 in terms of macro-economic news. Economic growth will be extremely strong and the recent ISM surveys of business confidence have reached levels that, in the past, marked the peak of economic recoveries.

Economic momentum cannot accelerate indefinitely, and despite massive vaccination efforts, the pandemic is far from over, with last week revealing the largest number of contamination world wide ever. India is in a situation of deep health crisis and many economies in Europe are suffering from their third lockdowns, while Japan is considering a new wave of restrictions.
One the earnings front, the base effect when compared to last year will make earnings growth look good, but in absolute terms, and as the recent results of Netflix demonstrated, expectations may be way too optimistic.
---
In conclusion,

THIS IS A TIME TO MOVE OUT OF EQUITY MARKETS COMPLETELY
We may see a last marginal push next week, but a severe correction is to unfold in May / June and, frankly, considering the level of speculation prevailing in all asset classes, we have no certainty that a major de-leveraging phenomenon will not send equity markets tanking like they did in March last year, rather than experiencing the correction we expect.

The risks are way too high to be taken…
---
MODEL PORTFOLIO AT AN ALL-TIME HIGH
Despite reducing risk and bailing out totally of Europe, Japan, Emerging Markets and even the US apart from special situations, our Mechelany Advisors MODEL PORTFOLIO is recording significant advances and its NAV is now at the highest ever.
With the collapse in Bitcoins, the rise in Government bonds, the sharp appreciation of Precious metals and the good timing of our entry in Chinese domestic shares,
our MODEL PORTFOLIO added +2.79 % last week, taking its NAV to 390.9
Since inception on January 1st 2014, our Model Portfolio has almost quadrupled in value, leaving far behind each and every equity indexes in the world with a compound annual average of +20.69 % over the past 7.3 years.
And we stand ready for what is to come ahead with an asset allocation that is now 57 % in US Government bonds, marginally net short equities, 17 % in Precious Metals and commodities,
6 % short Bitcoins and 40 % in Cash.
Let's take a few moments to explain our strategy and investment philosophy in equity markets.
Investment Philosophy
As our readers know, we have been managing our MODEL PORTFOLIO in a completely transparent way over the past 7.3 years, as we believe that generating performances is good, but showing how we do it is much more important.
In the paragraphs above we recommend investors to bail out entirely from equity markets.

In our MODEL PORTFOLIO we are marginally net short meaning that we are actually out , or even negative on equity markets, but also long 67 % equities and Short 74 % equities as well…

But not the same equities.
Investing in equities is about two things :

. Acquiring a stake in the actual value of a company, as measured by its Net Book or accounting Value, something that already incorporate intangibles as per GAAP accounting standards, and

. Acquiring a stake in the flow of future profits, profits being the only factor that will increase the Net value of the Company over time in accounting terms or distribute some of the profits to shareholders in the form of dividends.

There are two investment criteria that every prudent equity investors should consider :

. Is the investors paying a premium over the book value of the company or is he investing at a discount to that book value ?

. What is the Earnings yield of the company, or the real operational profits that will accrue and increase the value of the company over time, when compared to its market capitalisation, or the price at which the investors enters the company.
If an investor invests in a company that delivers earnings yields of 20 % per annum, AND acquires the company at a discount to its book value, then he is investing safely and the financial dynamics of the company will make his investment profitable over time ( see Warren Buffet )
If, conversely, an investor buys a company like TESLA at a huge premium to its accounting value ( 31x Book Value ) and a company that has an earnings yield of less than 1 % ( 690 million of net profits against 700 Billion of market Capitalisation ), then even if the company earnings grow by 20 % per annum in the coming years, it will take decades for the future flow of profits to amortise the massive premium paid at the time of the investment.
As the above chart shows, the accounting value if TESLA is 22.5 Billion today, meaning that investors are paying a 700 – 22.58 = 677 Billion of Dollars of premium to invest into the stock, or 981 x its current net profits and 1'165 x next years earnings..
Conversely, if investors buys a company like VIATRIS,( see BUY VIATRIS ), a clearly boring but hugely stable business, when the company book value is US$ 22 Billion, at a market Capitalisation of 16 Billion while the company will generate 4.2 Billion of profits next year ( or 26 % earnings yield ), or 3.8x earnings then his chances to lose money in the long term are extremely slim, while the 26 % of annual profits will increase the value of the company by 26 % every year…
So, yes, we are clearly staunch value investors when it comes to equity investments and that explains why while being globally net negative on equities – pending correction – we are long extremely cheap Chinese stocks, and special situations in the US, while being massively short the most expensive stocks in the investable universe, the US tech mammooths.
This also explains why 2020 saw our first and only annual loss on our Model Portfolio, as it was a year of total irrationality and exuberance.

But our investment philosophy has paid extremely well over the 36 years we have been managing money, and we actually pride ourselves for making money in almost every conditions, save for the most irrational – and short lasting – ever.
Asset Allocation
---
Transaction List
Last week, our STOP SELL were executed on the Bitcoin Future and TESLA shares, re-entering our short positions.
Our decision to go back into Chinese tech on April 19th proved timely, we cleared all our cash balances ahead of market volatility ahead and we took some profits on our Gold Miners so as to reduce our exposure to precious metals and commodities back to below 20 %.
---
Portfolio Details
DISCLAIMER

Mechelany Advisors FZ-LLC or www.mechelanyadvisors.com, is not a registered investment advisor, nor a capital management firm or broker-dealer and does not purport to tell or suggest which securities customers should buy or sell for themselves. 

Mechelany Advisors FZ-LLC operates as a private advisory and research company where we provide consulting services to pension funds, investments funds and private clients.

Our analyses and conclusions are ours and they only clarify and highlight the investment rationale behind our own investment decisions. The analysts and employees or affiliates of Company may - and usually do -  hold positions in the stocks or industries discussed here. 

The Company, the authors, the publisher, and all affiliates of Company assume no responsibility or liability for your trading and investment results. You understand and acknowledge that there is a very high degree of risk involved in trading securities.   

It should not be assumed that the methods, techniques, or indicators presented in these products will be profitable or that they will not result in losses.  Past results of any individual trader or trading system published by Company are not indicative of future returns by that trader or system, and are not indicative of future returns. 

The indicators, strategies, columns, articles and all other features of Company's products are provided for informational and educational purposes only and should not be construed as investment advice.  Examples presented on Company's website are for educational purposes only. Such examples are not solicitations of any order to buy or sell securities, commodities, investment products or engage into any kind of trading activities. 

Accordingly, you should not rely solely on the Information provided in making any investment decision. Rather, you should use the Information provided only as a starting point for doing additional independent research in order to allow you to form your own opinion regarding investments. You should always check with your licensed financial advisor and tax advisor to determine the suitability of any investment.

By navigating on our website or remaining on our subscription lists, you accept our terms and conditions and discharge us irrevocably form all responsibility.