Mechelany Advisors' WEEKLY MARKET REVIEW highlights the salient feature of the past week, details specific issues of the moment and reviews the Mechelany Advisors' MODEL PORTFOLIO, CHINA DEEP VALUE PORTFOLIO and the CHINA BANKS PORTFOLIO
Tech Crunch
On Friday, Apple Inc. lost $85 Billion in market value after a federal judge ordered the company to change the way it operates its App Store and charge 30 % commission on revenues generated by Application developers. ,

The stock fell 3.3%, its biggest decline since May, erasing about as much value than the individual market value of 402 of the components of the SP 500.
In a ruling that was expected and we wrote about before, the federal judge granted Epic games Inc. an injunction which would allow developers to steer consumers outside payment methods for mobile apps, preventing Apple to take its cut on revenues generated on the Applications.
The potential impact of the ruling on the company's profits in the future is not insignificant and will lead analysts to revise their targets and investors to reconsider the premium they are prepared to pay for the company.
Apple's commissions from the App Store generated an estimated $6.3 billion last year in the U.S. — with most of it coming from in-app purchases and subscriptions. That money is what's at stake as games and other apps prepare to steer consumers away from Apple's payment system.   

What Apple stand to lose from the ruling comes down to how many developers try to bypass its payment system. Loup Venture's Gene Munster, a longtime Apple watcher, puts the range at $1 billion to $4 billion, depending on how many developers take advantage of the new policy
Apple's net profits evolved between 45 Billion and 57 Billion between 2015 ad 2020, and the company is expected to make 86 Billion in 2021. A 4 Billion loss of profits would be non-negligeable for the company.
But beyond the profitability issue, this ruling is just one of the first step in the legal and anti-trust clampdown on the big US mega cap technology companies.

Interestingly enough, there is not much difference between the issues at stake here, dealt with through the US legal system, and what is taking place in China where the Governments is enacting rules to achieve the same results.
The Biden administration has vowed to take on consolidation and anticompetitive conduct across the economy.

President Joe Biden has put prominent tech critics in key positions and in a July executive order said he would combat the rise of dominant internet platforms, which he accused of using "their power to exclude market entrants, to extract monopoly profits, and to gather intimate personal information that they can exploit for their own advantage."
Apple itself has been investigated by The Justice Department's antitrust division over practices in the store, a probe that began during the Trump administration amid scrutiny of the country's dominant tech platforms.
Although the ruling did not qualify Apple's position as a monopoly, its consequences will have the same effect on profitability and business model in the long run, as it will also affect Google the other dominant player in the Application distribution business.

More globally, the pressure is building up on the entire US tech segment as we predicted as early as 2018, and we expect these developments to become more pressing for the tech companies as times goes by.
As we have highlighted may times in the past, the valuations reached by these companies are unsustainable in the long run, especially if earnings start being curtailed by legal and anti-trust actions or if a change on the taxation regime of share buybacks suddenly changed the demand / supply of shares of these companies.
Because of the share buybacks, Apple has increased its leverage considerably, operating with a net equity of only USD 65 Billion for a market cap of 2.4 trillion, and profits exceeding its net equity.
Only time will tell if we have seen the ultimate peak in the share price at US$ 157 last week, but this ruling could be a game changer in the way investors perceive the future of these tech giants.
We publish the long term chart as a reference for the future.


---
Crypto Crunch
Another important development last week was a further clampdown of the crypto-currency space with a bitter spat between Coinbase and the SEC.  

Coinbase disclosed that the SEC had threatened to sue if the crypto exchange launched a product that would allow customers to earn 4% yields for lending out their StableCoins to other traders.

The SEC qualifies the Coinbase proposal as an investment contract that should be registered with the SEC, a view the company aggressively contested in a blog post and a series of tweets.
The problem here is that stable coins are backed by money market instruments such as commercial IOUs and it is estimated than more then US$ 120 Billion are actually used as assets backing up the stable coin, creating a systemic risk in case of massive liquidation or collapse of the system. It is precisely to avoid these kinds of risks that regulators exist.

This comes on the heels of a general trend towards regulating the cryptocurrency space, from transparency, traceability and taxation, all elements that were at the heart of what the market calls DeFI or Decentralised Finance, a trend that we believe in but that we see developing through State Backed coins rather than private and independent mediums.
The week was clearly not fun for crypto lovers with ETHEREUMS falling 11 % and BITCOINS 7 % on the week.

More importantly, and as we highlighted last week, the failure of the cryptos to recoup their highs at the close confirms that a major lower top is in place for now and that the next move is down.

As this is coinciding with a downdraft in global equities, we have probably moved to a global "risk-off" period.
---
Chinese Warm-Up
There was however a tremendously good piece of news last week and that was the decision of Joe Biden to hold a 90 minutes telephone conversation with China's Chairman Xi Jing Ping, in a desire to improve the Chinese-US relationship.
The two presidents explored their areas of agreement and of disagreement and Xi Jing Ping led the ball in the court of the American President by highlighting the fact that the relationship has deteriorated by the unilateral aggressive actions of the preceding US President when he launched his ill-conceived Trade War and put sanctions on specific Chinese corporations.

China's position is that it is fully willing to cooperate amicably if there was "mutual respect" implying that the US had tho change its tack on sanctions and tariffs.
Chinese equities were boosted by the warming up of the relationship and it is likely that Joe Biden will continue his efforts to normalise the relationship with China.
In a parallel development, a new US business survey revealed last week that American firms in China are hoping for a meeting between Presidents Joe Biden and Xi Jinping and look for relief from trade barriers raised during the Trump era.
More than 60% of American Chamber of Commerce in China members surveyed cited the need to restore regular visa services for business executives and their families.Another 47% wanted the removal of tariffs, with more than three-quarters of companies complaining that measures levied during the trade war were impacting their operations in China, a strategic market for many of them.
Still, the results suggested companies realized that it was necessary to first improve ties that have remained tense despite Biden's defeat of former President Donald Trump in November.
Some 54% of respondents surveyed called for "regularized government-to-government communication" to rebuild relations, while 38% wanted a Biden-Xi summit this year.

While the chamber didn't disclosed the names of the 125 US companies that participated in the survey last month, its membership includes the Chinese branches of some of America's best-known brands, such as Boeing Co., Coca Cola Co. and WaltDisney Co.
High-level talks between top U.S. envoys, including Secretary of State Antony Blinken and climate envoy John Kerry have so far highlighted disagreements and yielded few results.
Treasury Secretary Janet Yellen, who has expressed skepticism on the effectiveness of Trump-era tariffs, is said to be weighing a trip to China soon.

Last month, more than 30 U.S. trade groups, including the U.S. Chamber of Commerce, the American Farm Bureau Federation and the Semiconductor Industry Association, called on the Biden administration to remove tariffs, which they said were harming the American economy.
We also expect the Biden administration to remove sanctions on some of the Chinese state owned companies as a gesture of goodwill, as they do not achieve much apart from preventing US investors from benefitting from the growth of these companies.

China's recent moves to force companies operating in China to list in China rather than in the US is also linked to this deteriorating atmosphere between the two economic giants.
We see last week's development as a turning point in the US-Chinese relationship and the pragmatism and experience of Joe Biden should lead to positive results.

To us Chinese equities have now bottomed and are ready for a new rally in the reminder of the year.
---
Weekly Review
---
Turning point in global equities
For the first week in many many weeks, Friday saw a sea of red at the weekly close with significant breakdowns in many indexes. Only Japan and China managed to rise.
As we highlighted last week, strategists are turning bearish on equities warning investors that a significant correction is at hand. Strategists from almost all the top Wall Street banks have come out this week with a nervous message about the U.S. stock market :
Binky Chadha, equity strategist at Deutsche Bank : "Equity valuations at the market level are historically extreme on almost any metric." Trailing and forward price-earnings ratios, as well as valuation metrics based on enterprise value and cash flow, are all in the 90th percentiles, he said.
James Congdon, co-head of Canaccord Genuity's research division Quest : "Global stock markets may be entering a period of turmoil." He added that investors should favor stronger businesses with robust cash flows over weaker and more speculative companies.
Dominic Wilson, strategist in economics research at Goldman Sachs : "While the broad U.S. market outlook is solid in our central case, we think peak cyclical optimism in the U.S. may be behind us." The strategists said hedges look attractive, especially on a shorter time horizon.
Andrew Sheets, cross-asset strategist at Morgan Stanley : "We are going to have a period where data is going to be weak in September at the time when you have a heightened risk of delta variant and school reopening." The bank cut U.S. equities to underweight and global stocks to equal-weight on Tuesday.
Savita Subramanian, head of U.S. equity and quantitative strategy at Bank of America : "The S&P 500 has essentially turned into a 36-year, zero-coupon bond," she said. "If you look at the duration of the market today, it's basically longer duration than it's ever been. This is what scares me." The threat is that "any move higher in the cost of capital via interest rates, credit spreads, equity risk premia, that's basically going to be a huge knock on the market relative to the sensitivity we've seen in the past," she said.
This last comment is probably the one that describes the current situation the best.

Equities have been levitating at unprecedented valuations thanks to artificially maintained interest rates at a time where inflation is stubbornly present, and Corporate America is more leveraged with debt than it has ever been.

Having passed the peak of the earnings recovery, any move higher in interest rates could create havoc on the profitability of corporate America while questioning the valuations reached to by Discounted Cash flow models.

Adding to that, we had seven consecutive months of rising markets, unprecedented inflows into equities and exceptional concentration in a very limited number of stocks, and a perfect storm could well be brewing on the horizon
A quick look at the following charts shows that liquidation has started
On a more global basis, the percentage of countries equity indexes trading above their respective 50-day moving average registered a sharp reversal lower over the previous two trading days. The time series reversed from 90% to 59%.

In the past, such signals have triggered global corrections of magnitudes between 4% and 10 % in the immediate periods following the signal.
Another worrying factor is that vven as the major equity indexes vacillate near record highs, macro conditions are deteriorating and the probability of trouble is rising.
Last week, we saw that economic reports have been coming in below economists' expectations, both domestically and globally. The Sentient Trader's Macro Index Model has been deteriorating, plunging below 46%, the 2nd-lowest reading of the past decade.

What this is saying is that growth may sputter faster than expected in the months ahead, taking a severe toll on corporate earnings.
At the same time, their Bear Market Probability Model has jumped again. This is a model outlined by Goldman Sachs using five fundamental inputs.
The chart below shows the spread between the Bear Market Probability and Macro Index models. The higher the spread, the higher the probability of a bear market combined with poor macro conditions.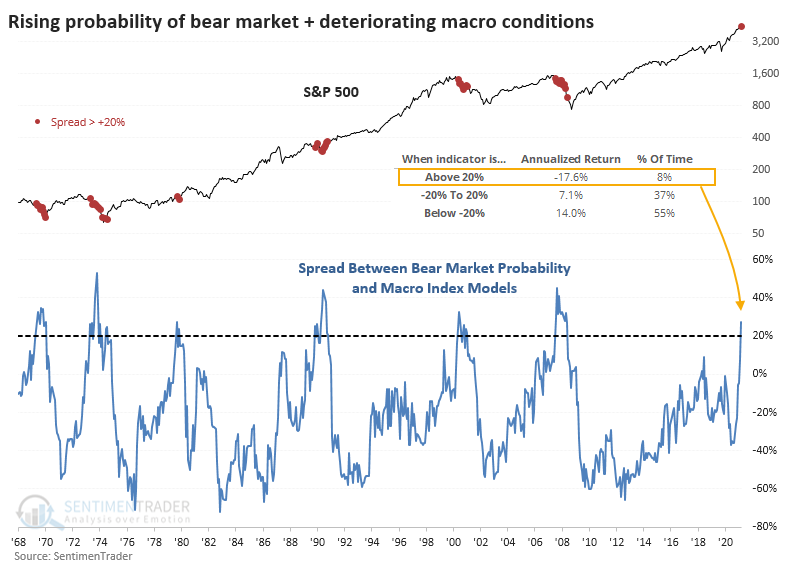 The chart shows that the S&P 500's annualized return is a horrid -17.6% when the spread is above 20% like it is now. The table below shows forward returns in the S&P after the spread crosses above +20% for the first time in at least a year.
To conclude on equities, it seems that our expected correction has started and the question now is how large and how fast it will be, keeping in mind that contrary to March 2020, Central banks have exhausted their firepower.
As an illustration of the unusual world we are living in, the following chart dug by our economic correspondent Philippe Chalu, showing that European Junk bonds are trading with negative yields for the first time in the history of the financial markets.

Talking about risk mis-pricing…
Shitty companies are paid to borrow money when we get 8 % yields on some of our major and Chinese world leading corporations


---
The Week Ahead
The US and UK are releasing key inflation reports next week, with investors looking forward to see if the recent price pressures show any signs of abating amid the economic growth slowdown.
Other than that, important data to follow include retail sales and industrial production figures from the US and China, and employment reports from the UK and Australia.
The Eurozone and Japan will be releasing foreign trade data, while New Zealand publishes second-quarter GDP growth.
---
Mechelany Advisors' MODEL PORTFOLIO
+3.97 % Last Week. +56.97 % Year to Date
Manager's Comments
Mechelany Advisors' MODEL PORTFOLIO was up +3.97 % last week as world equities rolled over, cryptos and ETHERs fell sharply while Chinese equities and tech stocks rallied.
Our MODEL PORTFOLIO is now up +56.97 % Year-to-date, just a tad under its record high, with a +379 % cumulative performance over 92 months and a compound IRR of + 22.67 %.
Our outperformance vis-a-vis the world indexes is increasing again and as our central scenario of a correction in Global equities is unfolding while Chinese equities are rising and starting a new bull phase as expected.
The US court ruling against Apple Inc's in the EPIC lawsuit is a defining moment in the pressure mounting against tech stocks and their future valuations while the global indexes are now rolling into a correction that was announced by most major financial houses and could prove to be quite sharp.
By contrast, the warming-up of the relationship between the US and China could herald a re-rating of Chinese equities overall and in Hong Kong in particular and Chinese domestic investors have started buying Chinese tech stocks.
The inability of Cryptocurrencies to recoup their losses on a weekly basis confirms the formation of a lower top, a bad omen for cryptos in the near future.
---
Performance Contribution
Commodities were negative contributors last week as Silver and Gold miners fell while copper edged higher on strong Chinese demand and export data. Oil weakened as China released supply from its strategic reserves.
Our US long special situation equities was uniformly negative last week with Esperion, QuantumScape, Biomarin and Viatris all losing 8 % on portfolio liquidations.
Europe was neutral with our German banks performing well in a negative market and our hedge delivering its expected function.
Japan was positive again with the Nikkei 225 being the best perfuming equity index last week. We took our profits in our Nikkei future position, reducing risk and exposure there.
Our Chinese H shares portfolio did well with our deep value favorites in construction, transportation, oil and automobiles adding 4 to 5 %, Tongda Group digesting its rights offering with an 11 % rise on the week, and, despite the roller coaster in technology stocks, they fared relatively well with KUAISHOU pursuing its recovery. We took profits in our ETFs last week and re-instated our ETFs in the FT50 China on Friday following the call between Xi Jing Ping and Joe Biden, which we see as a turning point in the US-Chinese relationship, that will probably lead to the US lifting sanctions on Chines companies and trade Tariffs ultimately.
US Short Positions were a positive contributor through our Index ETF shorts, Apple and the Russell 2000. Our long volatility position added 9 % while Netflix, Amazon, Facebook, Tesla and the other mega caps are still levitating for now, despite Cathy Wood having sold herr stake in TESLA.
Cryptocurrenices fell sharply on the week. They had held our performance back in the past couple of weeks but the 11 % fall in Ethers this week recouped half our losses, adding 1.1 % to our weekly performance.
---
Portfolio Details
---
Transaction List
Last week, we took advantage of te sharp rebound in Chinese technology stocks to take some profits and bring our positions in line with our normal individual exposure, whilst taking profits on our Chinese ETFs tactically. on Wednesday. We also took profits on our Nikkei 225 Future contracts.

In the US, we increased our short ETFs on the Nasdaq, were topped out of our TESAL short position and then re-instated our shorts in TESLA, Facebook and Apple Inc. on Wednesday.
We increased our short position on ETHER son Tuesday and re-instated our short OIL
Finally, we went short the EUR against the US Dollar.
---
Asset Allocation
---
Mechelany Advisors' CHINA DEEP VALUE Portfolio +2.30 % last week + 25.91 % YTD
Mechelany Advisors' CHINA DEEP VALUE portfolio rose +2.30 % last week for a Year to Date performance of +25.91 %, led by sharp advances in China Railways Construction and China Communication Construction, which are now up +37 since investing in them.

BAIC Motors is now starting to move on the back of strong numbers in sales of luxury vehicles and the banking sector is also starting to move ahead.
Our CHINA DEEP VALUE Portfolio's outperformance vis a vis the HSCEI Index is now at +38.5 % since the beginning of the year.
---
Mechelany Advisors' CHINA BANKS Portfolio
+3.84 % last week

Mechelany Advisors' leveraged CHINA BANKS Portfolio was launched on August 1st 2021 and is now up + 7.86 % in the past 40 days, after a +3.48 % advance this week.
All our holdings were in the green with Bank of China and Agricultural Bank of China leading the pack with 3 % advances.
The banking sector is starting to move as the market expects more stimulative policies coming from the PBOC whilst China's gradual management of the res-structuring of Evergrande lifted the anxiety of the impact of downsizing the real estate sector on the banking system.
Here again, with a +3.48 % advance last week, the CHINA BANKS PORTFOLIO is outperforming the HSCEI Index.
---
DISCLAIMER

Mechelany Advisors FZ-LLC or www.mechelanyadvisors.com, is not a registered investment advisor, nor a capital management firm or broker-dealer and does not purport to tell or suggest which securities customers should buy or sell for themselves. 

Mechelany Advisors FZ-LLC operates as a private advisory and research company where we provide consulting services to pension funds, investments funds and private clients.

Our analyses and conclusions are ours and they only clarify and highlight the investment rationale behind our own investment decisions. The analysts and employees or affiliates of Company may - and usually do -  hold positions in the stocks or industries discussed here. 

The Company, the authors, the publisher, and all affiliates of Company assume no responsibility or liability for your trading and investment results. You understand and acknowledge that there is a very high degree of risk involved in trading securities.   

It should not be assumed that the methods, techniques, or indicators presented in these products will be profitable or that they will not result in losses.  Past results of any individual trader or trading system published by Company are not indicative of future returns by that trader or system, and are not indicative of future returns. 

The indicators, strategies, columns, articles and all other features of Company's products are provided for informational and educational purposes only and should not be construed as investment advice.  Examples presented on Company's website are for educational purposes only. Such examples are not solicitations of any order to buy or sell securities, commodities, investment products or engage into any kind of trading activities. 

Accordingly, you should not rely solely on the Information provided in making any investment decision. Rather, you should use the Information provided only as a starting point for doing additional independent research in order to allow you to form your own opinion regarding investments. You should always check with your licensed financial advisor and tax advisor to determine the suitability of any investment.

By navigating on our website or remaining on our subscription lists, you accept our terms and conditions and discharge us irrevocably form all responsibility.