Mechelany Advisors' Weekly Review 21 Nov 2020
Mechelany Advisors' WEEKLY REVIEW is a new format that combines a Weekly Review of the main events of the week, a review of the charts of the main indices and asset classes and the Weekly Updates on Mechelany Advisors' MODEL PORTFOLIO
BULLISHNESS AT EXTREMES
Stocks continue to rally non-stop around the world, particularly in the Asia-Pacific region.
The media claims this is due to the election's results, covid-19 vaccines, and Asia's new free trade bloc.
Regardless of the reason, the past 2 weeks have seen strong sector shifts within the U.S. and broad-based rallies outside of the U.S. Sector rotation is noticeable among financial, energy, and industrial stocks. More than 95% of financial stocks are above their 50 and 200 dma's.
Small cap equities jumped higher, pushing the % of Russell 2000 stocks in a long term uptrend to its highest level in years.
In Japan, the Nikkei 225 made a three decade high pushing the Fear Greed indicator to a record high of optimism. In India, 40% of the Nifty 50 stocks are overbought:
For the first time in 9 months, surveys of investor attitudes are showing evidence of widespread optimism.
We. have written extensively about the hyper optimism of retail investors "Dumb" money and millennials buying stock like there is no tomorrow , but now the big change is happening in the survey of more seasoned investors like the one from AAII.
That was one of the few surveys to show persistent pessimism in the face of rising prices. since March 2020 and now the AAII survey has risen to levels that indicated major tops in the past.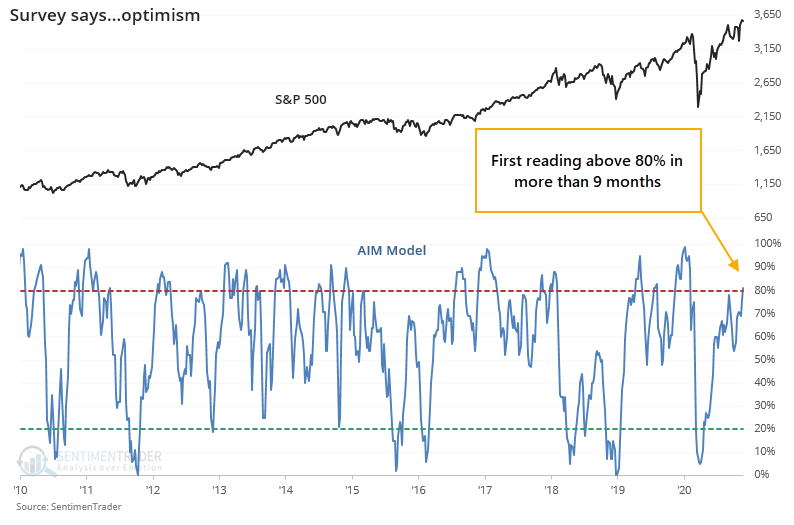 This ends a streak of 41 weeks, more than 9 months, with the model showing "not optimism," which is among the longest streaks since 1970.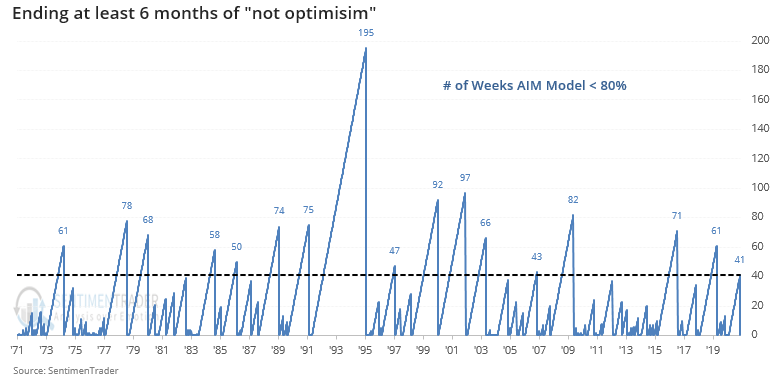 Optimism is to be seen everywhere and in every markets and that is probably a good thing.
Indeed, economic numbers have improved in the 3rd quarter even if they could relapse in the 4th quarter. U.S. economic conditions continue to improve with housing starts at pre- pandemic highs.
However, the Pandemic is raging again almost everywhere, the US Presidential transition is looking uglier by the day and The FED and the Treasury are now starting to fight over the allocation of unused funds while there is no sign of an agreement on an additional stimulus package.
The most important message from last week is that the post- election bullish sentiment of investors gained extreme momentum.

With a spike in the AAII Bullish Consensus to 59%, the whole sentiment frame has reached contrarian territory. Together with the SPX moving into the time window of our late November top projection, the air is getting thin and we are using strength to take profits almost everywhere instead of chasing the market higher.
From a cyclical aspect, we expect global equity markets to move into a minor trading top in the next 5 to 10 trading sessions as the setup for an initial pullback into early December.
Taking into account the current extreme readings in sentiment, we expect any further strength to be part of a distributive top building process, where the risk of a significant pullback into year-end or early Q1 is increasing sharply.
---
The FED and the Treasury are fighting …
Such is the political dysfunction in Washington that every gesture by the outgoing Donald Trump administration becomes an issue, with differing interpretations based on the observer's perspective. The spat this week between Treasury Secretary Steven Mnuchin and Federal Reserve Chair Jay Powell takes this unhelpful situation to a new level.
Mnuchin said on Thursday that he wants the Fed to return $455 billion of funds earmarked for lending to businesses and local governments under facilities due to lapse on Dec. 31. Powell can't exactly defy the Treasury, but the Fed's response made his displeasure known. It would prefer to see continued support for a "still-strained and vulnerable economy." For an apolitical central bank, that's tough talk.
Former Goldman Sachs banker Mnuchin isn't a dab hand at communication. In 2018, he startled markets with a statement needlessly affirming banks weren't in trouble. But what he's proposing might be reasonable. The U.S. economy needs fiscal support, yet many Senate Republicans feel public spending has already gone too far.

They might be prepared to see the unused funds paid out directly as grants to small businesses or households.
But there's another possibility.

An outgoing administration has little incentive to make life easy for Democratic President-elect Joe Biden, who takes over on Jan. 20.
Removing the funding facilities might create problems for him, because their very existence has given banks and financial investors confidence to lend. Republicans' image of fiscal discipline, after running up a $3 trillion deficit this year, is not convincing.
The ambiguity is damaging, either way. Mnuchin and Powell could have resolved their problems in private. But the conflict could also have been avoided by not making the Fed responsible for the lending in the first place. The central bank's job is to oversee monetary policy.
Asking it to extend credit to businesses, while not unprecedented in a crisis, blurs that responsibility. It gives Congress a way to pretend the funds didn't come from the public purse.
Ultimately, money can be found, that is not the problem.
The real problem right now is that investors are not being able to know for sure whether policymakers want to back the economy or break it.
Mnuchin and Powell have fueled that guessing game, and only Congress, with its power to decide on another round of fiscal stimulus, can settle it. But this may not be before a few weeks or a couple for months
---
The Week in Review
A globally positive week for equities and commodities although the momentum has faded away and Friday ended on. week note wit the spat between the US Treasury and the FED.
Covid is still forging ahead, Eurozone consumer confidence is plunging on renewed lockdowns, America saw the highest level of daily infection and death since the start of the Pandemic in February and New York City is closing its schools.
US Daily Covid-19 Cases Reach Fresh Record
The US reported 187,833 new Covid-19 cases on Thursday, the most since the pandemic started and the seven-day average of new infections increased more than 24% over the previous week to 165,029. Also, more 2,015 people have died from the disease, the most since early-May. Both California and Ohio governors imposed nightly curfews on gatherings ahead Thanksgiving holiday. On the positive side, Pfizer and BioNTech said they will apply for an emergency approval of its Covid-19 vaccine from the Food and Drug Administration on Friday.
Worldwide, with 54 million cases and 2.75 million death, COVID is still exploding upwards and we will probably have t wait for February to see the peak in the pandemic.
Moody's, Fitch Cut South Africa's Credit Rating
Moody's and Fitch Ratings both downgraded South Africa's sovereign credit rating on Friday. Moody's lowered the country's rating to Ba2 from Ba1 and maintained a negative outlook, citing as main trigger behind the revision the further expected weakening in South Africa's fiscal strength over the medium term. On the other hand, Fitch Ratings cut the sovereign credit rating to BB- from BB and assigned a negative outlook, citing as main trigger behind the cut high and rising government debt, exacerbated by the economic shock triggered by the COVID-19 pandemic. Standard & Poor's maintained its credit rating for South Africa at BB- with stable outlook.
Eurozone Consumer Morale Weakens in November
The consumer confidence indicator in the Euro Area fell 2.1 points from the previous month to -17.6 in November 2020, the lowest since May and compared with market expectations of -17.7, amid rising COVID-19 cases and new lockdowns across the region. Considering the European Union as a whole, consumer sentiment dropped 2.2 points to -18.7. Both indicators remained well below their long-term averages of -11.2 (Euro Area) and -10.6 (EU)
Copper hits 6-Years' high
Copper futures crossed $3.3 per pound for the first time since February 2014, supported by optimism surrounding a coronavirus vaccine, growing demand from top consumer China and a decline in Chile's production. The industrial sector in China, the world's top consumer of industrial metals, grew more than expected in October and in line with September's 9-month high. Also, recent figures from Chile showed that copper production fell 0.8% from a year earlier in September, the fourth consecutive decline. Copper is up about 2.6% in the third week of November.
Bitcoins reach levels of December 2017
As we predicted, Bitcoins have exploded upwards and are now reaching the levels of December 2017. We have taken our profits but remain invested in Ethereum
Oil rises for a third consecutive weeks despite lockdowns.
WTI crude futures gained 5% this week to settle at $42.2 per barrel on Friday, booking a third consecutive weekly rise, helped by successful COVID-19 vaccine trials and hopes that OPEC+ would delay by at least three months from January a planned crude output increase. In addition, signs of movement on a stimulus deal in Washington amid rising COVID-19 cases also provided some support. Meanwhile, investors continued to worry about fuel demand as several countries moved to impose fresh restrictions, while oversupply concerns also mounted as Libya raised crude production to pre-blockade levels of 1.25 million bpd.
What to expect Next Week
Minutes from the Fed and ECB meetings will be in the spotlight next week along with PMI surveys for the US, UK, Eurozone and Australia.
Also, the US is releasing the second estimate of Q3 GDP, durable goods orders, personal income and outlays, and PCE price index.
In Asia, investors will follow China's industrial profits and South Korea's interest rate decision.
---
MODEL PORTFOLIO 21 November 2020
Despite global equity markets rising , our MODEL PORTFOLIO stayed stable last week losing -0.23 % for a +0.03 % performance year to date.
Our cumulative performance since inception is +230.55 % against + 52 % for the MSCI World Index and an average + 19.16 % performance per annum against a +6.07 % annual average for the MSCI World Index.
---
Comments
We are almost out of stocks …
We really do not have much left in terms of long equity positions anywhere. Our US equity positions are minute, we are almost entirely out an net short Europe, We have a small position in Japanese small caps, we have reduced again our small emerging market position and our Chinese exposure is hedged as well.
Last week, MYLAN and Upjohn completed the merger of their generic operations to give birth to VIATRIS and that sent the stock to life again. Our portfolio was rather quiet apart form TESLA rising again on MorganStanley – who sold 5 Billion of stock to investors at the top raising its Price target in the speculative bubble and crypto currencies hoping wildly vertical .
We expect equity markets to fall next week while China may be on the cusp of making a major upside breakout.
Transaction List
Last week we doubled our position in ECHOwSTAR on an increases in PriceTarget by Raymond James and we re-instated pour long positions in Silver, Gold Miners and Platinum.

We took profits on or Indonesian ETF as the country is grappling with a sharp resurgence in the virus.
Portfolio Details
Asset Allocation
Technical Review
World Indexes
The MSCI World Index is marking a typical "throw over" pattern above the megaphone pattern form highly over extended levels. A fall back below the uptrend would be a very negative sign.
Emerging markets have a much more constructive pattern..
and Asia Pacific is making new all time highs.
Americas
The "election + vaccine" gap will be closed in the coming weeks. The lack of follow up last week and the reversal call for caution.
Typical throw over in the SP 500 from very over extended levels, combined with extreme optimism call for negative performance ahead…
The NASDAQ is losing momentum with a negative divergence .
Europe
European stocks gained 15 % in the last two weeks and need a breather, particularly considering the current lock downs across Europe.
Asia
Japan is over extended in the short term and should re-test its break of the 24'000 in the coming weeks before starting a new upward campaign.
China is grinding higher but the momentum is weak with investors worried about US actions against china listed shares
The HSCEI is at a crucial level testing the upward band of its downtrend channel. This is a time to lighten up and be ready to go full force once the channel in place since 2018 is broken. The next target will be 14'000.
Shenzhen and Shanghai stocks are consolidating. A healthy configuration for the future but some weakness can be expected in the very short term.
Cryptocurrencies
Bitcoins are going ballistic and Ethers are catching up.
We are selling the first one and keeping our positions in the second one.
Commodities
Good and Silver are consolidating their previous advance, setting the stage for another leg up towards 2'200.
Platinum is taking the lead and is breaking to the upside
Copper is testing its previous highs but is overextended in the short term
Currencies
The US dollar is ready for a countertrend move and losing momentum on the downside. Accumulate .
The EUR is consolidating its previous advance
The Chinese Yuan is extremely overbought …
DISCLAIMER

Mechelany Advisors FZ-LLC or www.mechelanyadvisors.com, is not a registered investment advisor, nor a capital management firm or broker-dealer and does not purport to tell or suggest which securities customers should buy or sell for themselves. 

Mechelany Advisors FZ-LLC operates as a private advisory and research company where we provide consulting services to pension funds, investments funds and private clients.

Our analyses and conclusions are ours and they only clarify and highlight the investment rationale behind our own investment decisions. The analysts and employees or affiliates of Company may - and usually do -  hold positions in the stocks or industries discussed here. 

The Company, the authors, the publisher, and all affiliates of Company assume no responsibility or liability for your trading and investment results. You understand and acknowledge that there is a very high degree of risk involved in trading securities.   

It should not be assumed that the methods, techniques, or indicators presented in these products will be profitable or that they will not result in losses.  Past results of any individual trader or trading system published by Company are not indicative of future returns by that trader or system, and are not indicative of future returns. 

The indicators, strategies, columns, articles and all other features of Company's products are provided for informational and educational purposes only and should not be construed as investment advice.  Examples presented on Company's website are for educational purposes only. Such examples are not solicitations of any order to buy or sell securities, commodities, investment products or engage into any kind of trading activities. 

Accordingly, you should not rely solely on the Information provided in making any investment decision. Rather, you should use the Information provided only as a starting point for doing additional independent research in order to allow you to form your own opinion regarding investments. You should always check with your licensed financial advisor and tax advisor to determine the suitability of any investment.

By navigating on our website or remaining on our subscription lists, you accept our terms and conditions and discharge us irrevocably form all responsibility.