Mechelany Advisors' INVESTMENT IDEAS are the result of our analyses and can cover trading or investment ideas in any asset class. They are destined to tell our readers what we believe offers asymmetrical risk/rewards that can be benefitted from. We may or may not include them in our MODEL PORTFOLIO depending on the risk structure of our Portfolio at the time of publishing.
As our regular readers know, we are value-driven investors and usually shun high growth companies when valuations become unjustifiable, as they have become since 2018.
However, we stay on the lookout for entry points in highly promising companies, as we did recently with the Chinese tech sector, and PALANTIR (PLTR) is a company we have been watching for quite some time now.
And we have reached this juncture with PALANTIR
BUY Palantir PLTR US @ USD 26.5
The Google of AI
Palantir is one of the most interesting technology company available today and, if everything goes well, it should become the world market leader in data analysis and Artificial intelligence in the coming decade.
The company was formed in 2004 by a group that includes PayPal co-founder Peter Thiel.
Palantir started as a company focused on government nation security solutions in the wake of the 9/11 attacks, and has successfully diversified its product offering over the years as big data became an issue with commercial corporations.
Palantir operates in more than 15 countries, including Japan, Singapore and Australia. Its forays into Japan which is home to legacy industries that are not data savvy will be a key test of its commercial success.
Palantir offers organizations software solutions to optimize the analysis of large data sets.

Palantir has two software offerings.
The first application, Gotham software, is for government operations, intelligence gathering and national security.
The second application, Foundry software, targets commercial enterprises with customizable solutions to analyse big data.
The company is already the leader in the government sector while its expansion in its offerings commercial organisations will trigger its future growth.

Palantir's products have been disruptive in the data insight and data integration markets. Prior to Palantir, the data insight market was non-existent.
In 2020, for the first time, Palantirs' revenues form the commercial sector commercial revenues surpassed government sales, with 53% of revenues coming from the private sector.
Financials
Since 2018, Palantir has more than doubled its revenue numbers, growing sales from $600 million in 2018 to $1.33 billion over the last twelve months.
Palantir posted a net profit for the first time in 2020 and went public the same year. Sales are expected to multiply by 2.5x in 2023 when compared to 2020 and profits to double.
What is more interesting is that company on the verge of turning to long-term cash flow generation in 2021, for the first time in the company's 18 year history.
Increased product acceptance should lower Palantir's customer acquisition costs, leading to margin expansion and higher ROIC.
Given Palantir's current gross margins, the company's net margins should average 20% over the next five years.
If Palantir can expand its net margin to 20% and increase revenue at a 30% CAGR over the next five years, Palantir should generate profits of between $ 1.2 Bln and $1.5 billion in 2026, or 5x the current levels.
At a market cap of US$ 50 Billion, the company's current valuation already discounts these numbers. However, what it does not discount is growth after that.
Palantir has the potential to generate 20 Billion in revenues in 2030. At 20 % margin, that would represent profits of US$ 4 Billion. By then, if the company trades at a P/E of 20 x to 25 x, the market capitalisation will reach 80 to 100 Billion.
Clearly, if the market continue to value high growth companies as it does today, then the market cap could become a multiple of the above numbers.
Without speculating on the above, what makes PALANTIR unique in the space is its technological leadership and the size of the addressable market.
The Market
Artificial intelligence requires data analysis and using data analysis software will become the norm for any commercial enterprise from now on.
Since its creation, Palantir has secured a leading position in the Government and intelligence sectors. The commercial software market is highly competitive, but Palantir benefits from being a niche software provider in a fast growing market, with a clear technological advance in data pattern identification.
As of now, Palantir currently commands less than 5% of the data visualization and analytics market, with Microsoft, IBM, and SAP being the three largest competitors. Another of its main competitors is Salesforce and its fast-growing Tableau software.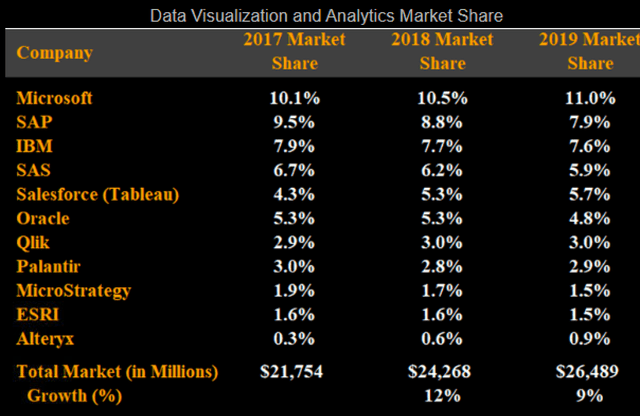 Source: Bloomberg
However, Palantir's highly specialised software allows the company to charge a significant premium to its customers. According to Bloomberg, Palantir's average revenue per customer dwarfs that of any other large software provider. Palantir's average revenue per customer is $6 million.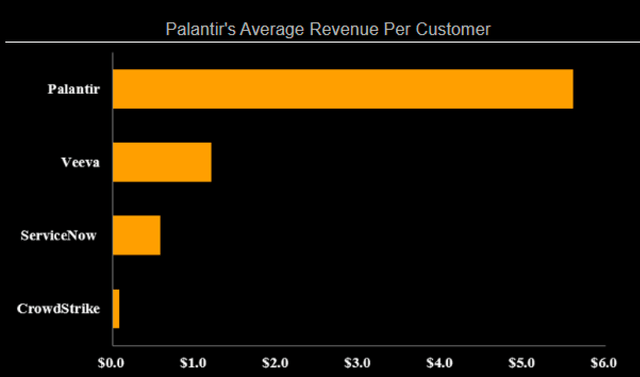 Palantir has been expanding its partnerships, teaming up with IBM to integrate its foundry software.With IBM, Palantir has the opportunity to displace the current leaders in data analytics, such as SAP and Oracle. Palantir also plans to offer a customisable platform for third-party platforms, which could significantly increase demand for its offerings.
The company is now at a stage where the faster commercial deployment of its products will lower costs, expand margins and generate free cash-flows enabling the company to accelerate its deployment.

With quicker deployment times, Palantir is already scaling its software to provide solutions for a wider variety of problems, as testified by the US governments' use of Palantir's systems to track COVID-19 contact tracing.
Valuation and Timing of the Entry Point
Palantir is not cheap by any means and its USD 50 Billion market cap already discounts a positive scenario for the next three years.
The key question here is whether Palantir has the technology and the execution capabilities of becoming the tech leader of Big Data analysis and Artificial intelligence.
Its stronghold on the public sector and debuts in the commercial markets put it at a uniquely favorable juncture. Conversely, intense competition from SalesForce and Microsoft could hamper its penetration of the commercial market.
Our Conclusion is that PALANTIR is one of those companies that investors should own for its huge potential and that the current entry point is the best we have had for the past 12 months.
Clearly, the share price could fall back towards 20, but the current technical set-up is the most favorable we have seen in many months with a target at USD 40 or above.
---
DISCLAIMER

Mechelany Advisors FZ-LLC or www.mechelanyadvisors.com, is not a registered investment advisor, nor a capital management firm or broker-dealer and does not purport to tell or suggest which securities customers should buy or sell for themselves. 

Mechelany Advisors FZ-LLC operates as a private advisory and research company where we provide consulting services to pension funds, investments funds and private clients.

Our analyses and conclusions are ours and they only clarify and highlight the investment rationale behind our own investment decisions. The analysts and employees or affiliates of Company may - and usually do -  hold positions in the stocks or industries discussed here. 

The Company, the authors, the publisher, and all affiliates of Company assume no responsibility or liability for your trading and investment results. You understand and acknowledge that there is a very high degree of risk involved in trading securities.   

It should not be assumed that the methods, techniques, or indicators presented in these products will be profitable or that they will not result in losses.  Past results of any individual trader or trading system published by Company are not indicative of future returns by that trader or system, and are not indicative of future returns. 

The indicators, strategies, columns, articles and all other features of Company's products are provided for informational and educational purposes only and should not be construed as investment advice.  Examples presented on Company's website are for educational purposes only. Such examples are not solicitations of any order to buy or sell securities, commodities, investment products or engage into any kind of trading activities. 

Accordingly, you should not rely solely on the Information provided in making any investment decision. Rather, you should use the Information provided only as a starting point for doing additional independent research in order to allow you to form your own opinion regarding investments. You should always check with your licensed financial advisor and tax advisor to determine the suitability of any investment.

By navigating on our website or remaining on our subscription lists, you accept our terms and conditions and discharge us irrevocably form all responsibility.