Mechelany Advisors' WEEKLY REVIEW is a new format that combines a Weekly Review of the main events of the week, a review of the charts of the main indices and asset classes and the Weekly Updates on Mechelany Advisors' MODEL PORTFOLIO
One year later…
Exactly one year after the March 2020 bottom, global equity markets are hovering at all-time highs after the sharpest and most phenomenal rally ever…

But sentiment is at all-time highs, investors are pouring record high amounts of money into stocks, despite the US tech sector on the verge of a major collapse and US bond yields having risen by 150 %…

The rally off the 2020 low is remarkable simply because of how far the average stock has traveled. Across all the major equity indexes, and throwing in over-the-counter stocks just because they have seen such a tremendous surge of interest, the median stock is up more than 100% from its lows.
That's more than the initial recoveries off the bear market bottoms in 2003 and 2009.
Because stocks have rallied so hard, it is hard to see an increase in the number of stocks falling to 52-week lows. If we did see that in the coming weeks, this would create a divergence in indexes like the S&P 500, a reliable warning sign.
Even though, by last Tuesday there were more 52-week lows than 52-week highs.
And it IS a worrying sign that this has flipped so soon after a new high in the S&P, triggering the a TITANIC Syndrome right after we recorded tow Hindenburg signals in the previous weeks.  
The Titanic Syndrome was created by Bill Omaha in the 1960s. It highlights a technical market condition when stocks have recently been at a high, and then there is a sudden jump in new 52-week lows versus highs on the NYSE. It is a warning sign that typically precedes trouble over the next 1-3 months.
Add to the picture the fact that last week, investors shovelled nearly $54 billion into equity mutual funds and ETFs. Not only is that more than any other week, it's more than any other entire month since 1996.
For the month of March so far, investors have moved more than $75 billion into equities, by far a record high.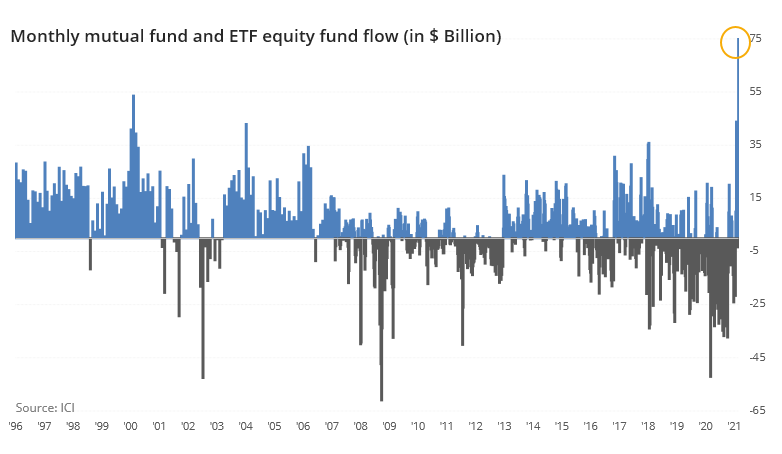 Another sign of bullishness and complacency is the plethora of new offerings and IPOs. According to Bloomberg data, there has now been $114 billion in U.S. initial public offerings that were priced over the past 12 weeks. At 0.26% of the entire market capitalization of U.S. stocks, this is the most in more than 25 years.
The real worries about these offerings, are the average age of a company going public (again, thanks to SPACs), with unprecedented numbers of very young a companies raising, money, the sharp pop that they've enjoyed when hitting the market but fell afterwards, and how many of them are unprofitable. The sheer number and size of new issues is certainly extreme, but it took quite a while before that mattered to the market in the mid-80s and early 90s.
Statistics show that mots IPOs, SPACs, Solar, and other speculative stocks, including TESLA are down more than 20% from their peaks, it compares to the technology bubble in the mid to late 1990s in the sense that IPOs were getting hit hard while the S&P 500 had just been sitting at a new high.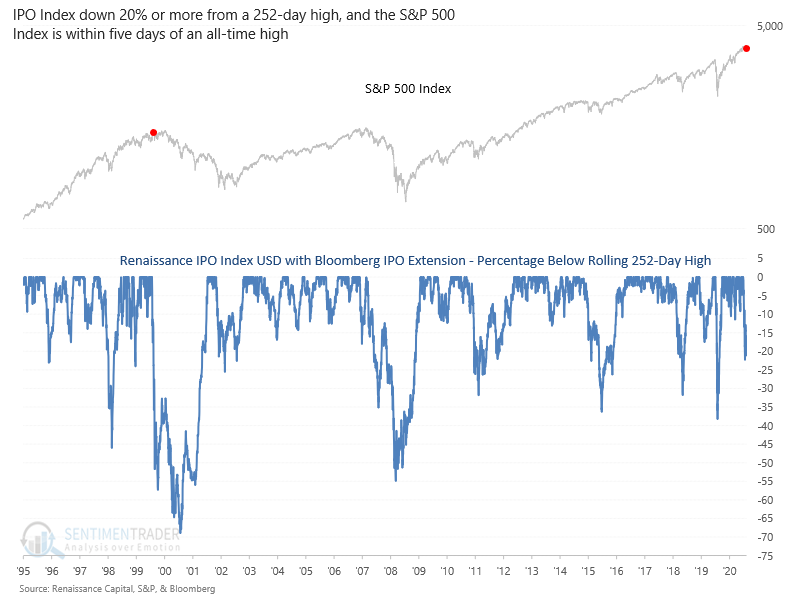 What all the above really says is that the current environment of excesses of bullishness and speculation may be turning and that equity returns going forward are more likely to be negative than positive-
Watch bonds..
Since the beginning of the year, bonds yields have risen quite considerably, and bonds are currently more oversold than they have been for years, with 30-year US Government bonds having lost 25 % of their value since September 2020.

So much so for the US FED's loaded Balance sheet….
We have ourselves started accumulating Government bonds in 2021 for the first time in more than six years. We were probably slightly too early and expect bonds to perform positively in the Q2 of 2021.
However, we may not have seen the end of the fall yet…. and 10-year bond yields could very well rise by another 20 basis points 1.95 if the chart below is correct… That would be just anther blow to global equities …
Another worrying development last week is that High yield bonds have started to break out. We have been amazed at how investors were prepared to forget risks in the past year, gobbling up low credit ratings at a rate with no precedent in history, and driving yields to the lowest levels and spreads ever. The recent rise in Treasury yields have made the risk spreads even more extraordinary…
But the end of the party may have just started… Fasten your seat belts ….
---
Stay Long US Dollars
As highlighted in the past few weeks, the US currency has made a significant bottom and the rise is not over. Rising Us bond yields, rising corporate bond yields and a breakdown in equities would sent the currency flying…
---
Chinese Industrial Profits soar 179 %
Profits at Chinese industrial firms soared in the first two months of the year, largely due to the low base a year ago when the economy was paralyzed by the coronavirus outbreak, as well as a boost in exports.

Industrial profits climbed 179% in January and February from a year earlier, the National Bureau of Statistics said Saturday. The agency releases combined data for the two months in an attempt to smooth out volatility associated with the Lunar New Year holiday.

After a sharp decline in the first quarter of 2020, profits steadily picked up during the year as industrial production recovered and export demand climbed.
Profits surged 20.1% in December from a year ago
Businesses are also starting to benefit from higher prices, especially for commodities.
Producer prices rose at the fastest pace in more than two years in February, helping to boost profitability
Profits at state-owned firms grew 182%, while those at private companies grew 137%, and foreign-invested business rose 219%
The acceleration in recovery of profits was due to the combined effects of a stable recovery of domestic and overseas demand, low base last year, and more people spending the Lunar New Year without travel, NBS official Zhu Hong said in the statement.
The sharp 13 % correction in Chinese domestic and Hong-Kong listed shares is over, and investors should take advantage of the weakness to position themselves in large Chinese tech stocks.
---
As we have been advocating for several weeks now, this is not a time to chase equities higher…

But rather to fasten your seat belts …
---
DISCLAIMER

Mechelany Advisors FZ-LLC or www.mechelanyadvisors.com, is not a registered investment advisor, nor a capital management firm or broker-dealer and does not purport to tell or suggest which securities customers should buy or sell for themselves. 

Mechelany Advisors FZ-LLC operates as a private advisory and research company where we provide consulting services to pension funds, investments funds and private clients.

Our analyses and conclusions are ours and they only clarify and highlight the investment rationale behind our own investment decisions. The analysts and employees or affiliates of Company may - and usually do -  hold positions in the stocks or industries discussed here. 

The Company, the authors, the publisher, and all affiliates of Company assume no responsibility or liability for your trading and investment results. You understand and acknowledge that there is a very high degree of risk involved in trading securities.   

It should not be assumed that the methods, techniques, or indicators presented in these products will be profitable or that they will not result in losses.  Past results of any individual trader or trading system published by Company are not indicative of future returns by that trader or system, and are not indicative of future returns. 

The indicators, strategies, columns, articles and all other features of Company's products are provided for informational and educational purposes only and should not be construed as investment advice.  Examples presented on Company's website are for educational purposes only. Such examples are not solicitations of any order to buy or sell securities, commodities, investment products or engage into any kind of trading activities. 

Accordingly, you should not rely solely on the Information provided in making any investment decision. Rather, you should use the Information provided only as a starting point for doing additional independent research in order to allow you to form your own opinion regarding investments. You should always check with your licensed financial advisor and tax advisor to determine the suitability of any investment.

By navigating on our website or remaining on our subscription lists, you accept our terms and conditions and discharge us irrevocably form all responsibility.